Ethiopia's acting prime minister, Hailemariam Desalegn, announced as leader following Meles Zenawi's death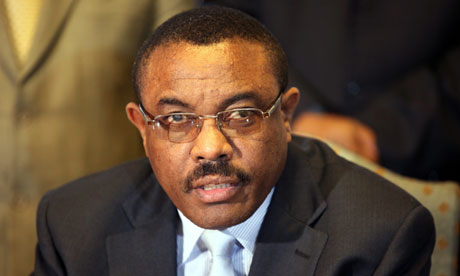 Ethiopia
's acting prime minister, Hailemariam Desalegn, will run the country until an election in 2015, in a sign that the ruling party is determined to ensure a smooth transfer of power following the death of
Meles Zenawi
.
Meles, 57, died on Monday in a Brussels hospital after a long illness, leaving a gaping hole in Ethiopian politics and depriving western powers of a trusted ally in the fight against Islamist militants in the Horn of
Africa
.
"He [Hailemariam] will be the prime minister until 2015. He is to be sworn in and he is to finish the five-year term of government and that is indisputable," government spokesman Bereket Simon said.
Parliament would be summoned within the next two days and Hailemariam would be sworn in as prime minister, Bereket said.
Mourners gathered to witness Meles's casket arriving in the capital, Addis Ababa, on Tuesday. His body is now lying in his private residence as preparations are made for a state funeral.
Bereket said that the ruling Ethiopian People's Revolutionary Democratic Front, a coalition of regionally based parties, would hold a party congress at an undisclosed date to nominate a leader but said there was no scenario under which Hailemariam would not remain as premier.
Speculation had been rife that a potentially divisive race for the top post would follow Meles's death. Asked whether all coalition members had approved Hailemariam's selection, Bereket said: "They have no problem with this."